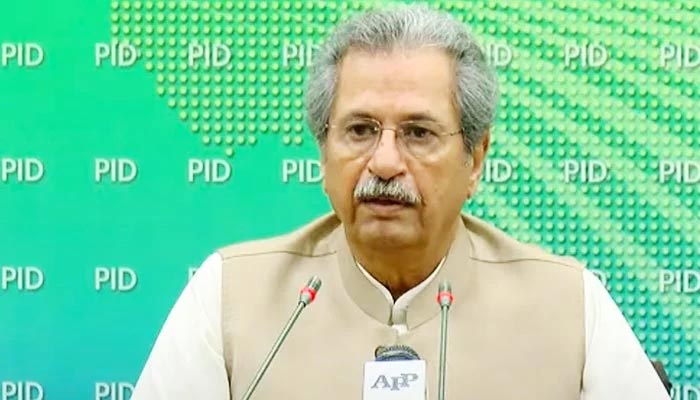 Health circumstance to be a significant factor in deciding returning of schools 
Education clergymen to meet on Jan 4, 2021 to choose the resuming of schools
Federal Minister for Education Shafqat Mehmood, in his most recent tweet, said that the nation's wellbeing circumstance would decide the returning of schools and other instructive institutions.
The Inter-Provincial Education Ministers Conference (IPEMC) is set to happen on January 4, 2021, to survey the Covid pandemic circumstance and settle on when schools and other instructive establishments should be resumed.
"Among other agenda points the most important would be an analysis of the health situation to determine re-opening of educational institutions," Mehmood said in a tweet.
The IPEMC had before chosen to close all schools, schools, and colleges from November 26 and reported that an audit meeting would be held in the principal seven day stretch of January.
Read more: Education clergymen to meet on Jan 4 to talk about returning of schools, says Shafqat Mehmood
Two days sooner, reacting to media questions, Mehmood stated: "The IPEMC would meet on January 4 to review the pandemic situation in the country and make a decision about reopening of educational institutions."
Earlier, Sindh instruction serve Saeed Ghani had said that subsequent to assessing the Covid circumstance, it didn't appear to be conceivable that instructive foundations would return in January 2021.
Ghani had emphasized his service's position that dissimilar to the last scholarly year, no understudy would be elevated to the following year without taking the assessment this year.
Read more about Shafqat Mehmood's significant announcement 
Meanwhile, the proprietors of tuition based schools have taken steps to hold a long walk towards Islamabad if schools are not permitted to continue classes from January 11.