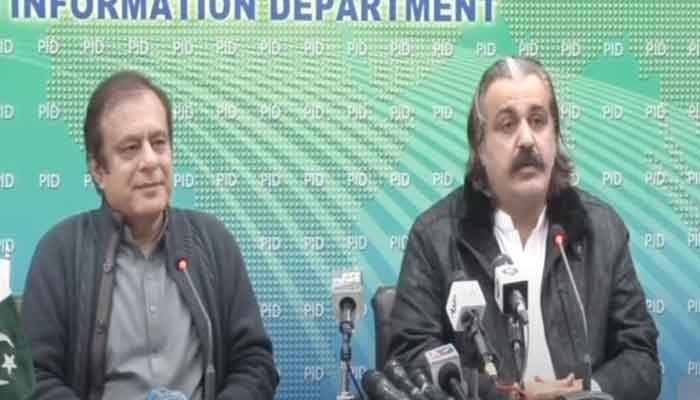 Shibli Faraz requests Opposition to demonstrate fixing in 2018 elections
information serve considers Fazl's a "fascist" for removing party leaders
Ali Amin says from this point forward, PDM to be called "dacoit movement"
ISLAMABAD: Federal Minister for Information and Broadcasting Shibli Faraz on Friday said that the Pakistan Democratic Movement (PDM) is chipping away at a non-popularity based plan to remove a chosen government.
Addressing a question and answer session alongside Minister for Kashmir Affairs and Gilgit-Baltistan Ali Amin Gandapur, Shibli said that the PTI utilized all choices to address its reservations against the 2013 elections.
Read more: Who is PM Imran Khan to consider us responsible, asks Maulana Fazl
The data serve said that the PTI had requested the relating of votes in four electorates, adding that gear was later demonstrated in all of them.
Shibli said that the Opposition, then again, has not utilized any stage to demonstrate the claims that they have leveled against the 2018 elections.
Read more: JUI-F ousts Maulana Sherani, Hafiz Hussin Ahmed over disputable statements
The data serve requested that the Opposition present "any evidence that they have in relation to the alleged rigging in the 2018 elections."
"PTI exposed the Opposition's performance […] and due to their poor performance, people did not vote for them," he said.
Campaign began after NRO not given
Slamming the 11-party coalition, he said that the PDM began an enemy of government crusade after they couldn't get the National Reconciliation Ordinance (NRO) to cover their wrongdoings.
Taking an agree at PDM cheif Maulana Fazlur Rehman, he said that a mission has begun against the individual who is driving the Opposition to expel Prime Minister Imran Khan.
Read more: Fazlur Rehman is himself 'selected', says senior JUI-F pioneer Maulana Sherani
Faraz said that that Fazl's gathering individuals have indicated no-trust in him, adding that there has been a "revolt" in JUI-F.
"Maulana Fazlur Rehman has immersed himself in worldly things," Faraz stated, adding that Hafiz Hussain Ahmed and Maulana Sheerani had asked the JUI-F boss to return on the privilege path.
Fazl's demeanor resembles that of a "fascist"
Responding to the ejection of Maulana Sheerani and Hafiz Ahmed from JUI-F, he said that Fazl's mentality resembles that of a "fascist".
Shibli said that the PDM was "falling apart", and that they had "differences within". The data serve asserted that none of them needed to leave the assemblies.
Read more: UK to settle on Nawaz removal to Pakistan
The data serve said that it has been "a policy" of the Opposition gatherings to turn to dangers as opposed to reacting to debasement cases, adding that they plan to destabilize a justly chose government.
Meanwhile, Gandapur said that Fazl was not exempt from the laws that apply to everyone else and that he should be liable for his "corruption".
'Dacoit movement'
"Maulana Sherani has also asked questions, he needs an answer," Gandapur stated, adding that the JUI-F pioneer had named Fazl "selected".
The bureaucratic priest asked Fazl for what valid reason was he compromising the organizations in the event that he was not engaged with corruption.
Read more: PM Imran Khan lashes out at PDM, says Opposition alliance passed on its own
"I will provide more proof of Maulana Fazlur Rehman's property that is worth billions of rupees," he stated, adding that the public authority would not extra him.
The administrative pastor, talking more on the ejection of JUI-F pioneers, said that kicking out individuals from the gathering isn't majority rules system.
"PDM is a dacoit movement […] So from now on, it should be termed a dacoit movement," he added.