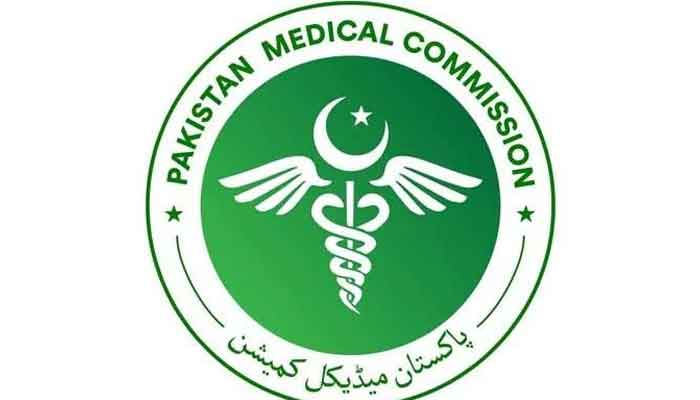 PMC reported new strategy for Unrecognised Alternative to Post Graduate programmes
Commission said numerous colleges are offering said programs without review or acknowledgment from the Commission
New expressions and conditions issues for colleges running the said programs until acknowledgment from Commission 
The Pakistan Medical Commission on Tuesday declared an approach for the 'Unrecognized Alternative to Post Graduate' programs, otherwise called 'Extra to Post-Graduate Programs (MDMS).
According to an official warning gave by the commission, a few colleges in Pakistan have initiated  "Clinical Alternative to Post Graduate Programmes' as well as 'Clinical Additional to Post-Graduate Programmes' without being inspected or recognised by the Pakistan Medical Commission or the erstwhile Pakistan Medical and Dental Council (PMDC).
Read more: PMC announces new admission schedule for private, public colleges
"Some of the projects have been examined and perceived by colleges as college programmes," the notice read.
The PMC further stated that in view of the situation, the commission will inspect all such clinical programmes and teaching hospitals where such clinical training is being conducted.
It added that the inspection will be carried out once the criteria for teaching hospitals is framed by the Medical and Dental Academic Board and approved by the Council.
"Until such time as these projects and instructing emergency clinics are assessed and perceived by the Pakistan Medical Commission, the colleges may temporarily proceed with so much projects as 'college perceived projects' dependent upon [PMC's] terms," the notice stated. 
Terms and conditions 
Following are the terms and conditions set forth by the Commission, according to the notification.
Read this as well: MDCAT 2020: PMC clarifies paper checking measure after objections from students
a) If a program and its encouraging emergency clinic are perceived by the Pakistan Medical Commission post examination, capabilities granted to learners of such projects independent of their enlistment or capability will be perceived with the end goal of licensing. 
b) If a program and its encouraging emergency clinic are not perceived by the Pakistan Medical Commission post investigation, people having qualified from such projects will be needed to embrace a base further preparing according to terms recommended by the Commission and appropriately ensured by the chief at a perceived comparable program and instructing emergency clinic to have their capability recognised.
c) Trainees at a program which isn't perceived by the Pakistan Medical Commission post review will be permitted to move to some other perceived identical program subject to a further preparing period according to terms endorsed by the Commission, to be attempted to acquire the essential qualification. 
Related: Students pummel PMC, consider it a 'fizzled institution'