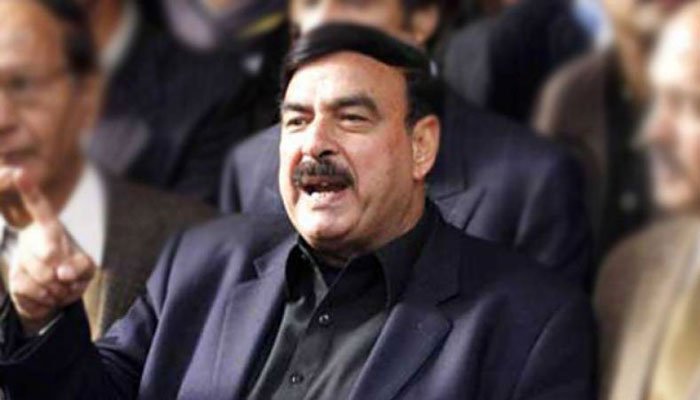 Sheikh Rasheed said PML-N won't submit resignations
'Only two abdications from PML-N individuals made the gathering worried'
'Nawaz Sharif will probably not re-visitation of Pakistan'
ISLAMABAD: The Federal Minister for Interior Sheik Rasheed Ahmed on Tuesday said that neither will the PML-N leave the public and commonplace congregations nor will Nawaz Sharif re-visitation of Pakistan.
In a casual discussion with the media about the Senate races and the Opposition's investment in the surveys, Sheik Rasheed said that in the event that the PPP chooses to partake, at that point it would be normal for PML-N to do as such as well.
"If the PPP partakes in the Senate elections, then PML-N will be pressurised to take part in the elections too," he said. "The matter of resignations has been sidelined and these parties will even take part in by-polls."
Taking an agree at PML-N, the inside priest said that neither will Nawaz Sharif re-visitation of Pakistan nor will any of their gathering individuals present their abdications from the public or commonplace congregations as they have claimed. 
"Only two resignations were submitted by PML-N members and that made them worried," Sheik Rasheed stated, adding that each gathering needs some sort of help to withdraw their tall cases however the PML-N doesn't have any. 
Read more: 15 services in 35 years: A gander at Sheik Rasheed Ahmed's political career
The inside clergyman commended PPP co-administrator Asif Ali Zardari for his political strategies yet added that PM Imran Khan was showing improvement over him.
'PDM on the decline'
Speaking about the Pakistan Democratic Movement (PDM), Sheik Rasheed said that the development is on the decrease with each spending day.
Rasheed said that the PDM has been determined to ask the PTI-drove government to leave for good, yet their main goal will never be successful. 
"Imran Khan will not go home. It is the PDM which will have to go home," he said. 
'Govt will make a move against the individuals who censure outfitted forces'
Shedding light on the previous gathering of the bureau pastors and other senior PTI individuals with PM Imran Khan, he said that the public authority has chosen to find every one of the individuals who defame the military via web-based media and otherwise. 
"Anyone found badmouthing the armed forces will be dealt with in accordance with the Constitution and the law of Pakistan," he said.
Read more: Govt to find the individuals who insult state establishments via web-based media: PM Imran Khan