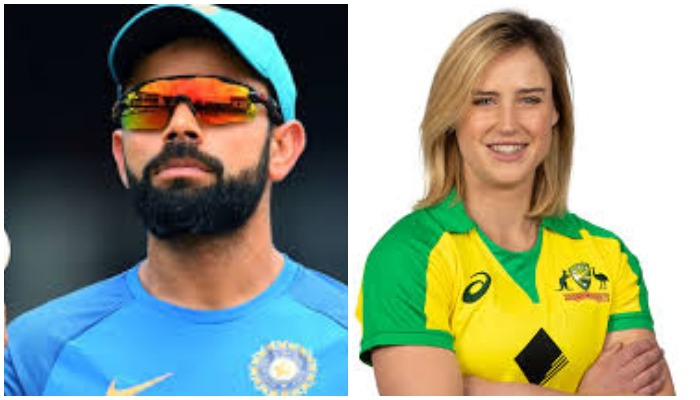 India's Virat Kohli was given 'Cricketer of the Decade' just as "Men's ODI Cricketer of the Decade" award
Australia's Ellyse Perry won the ladies' "Cricketer of the Decade" title and "Women's ODI Cricketer of the Decade"award
No Pakistani cricketer could win any of the ICC's honors in any category
India's Virat Kohli and Australia's Ellyse Perry have been named by International Cricket Council (ICC) as people's "Cricketers of the Decade."
The declaration was made to stamp the finish of the ICC's honors of decade service which disregarded Pakistani cricketers in each category.
The singular honors were reported a day after the ICC named groups of many years which got analysis via web-based media by fans from everywhere the world for passing up a major opportunity the absolute greatest names of the game in the individual categories.
Related: IPL group declared rather than ICC Teams of the Decade: Shoaib Akhtar
Virat Kohli scored 20,396 runs in all global cricket during the time-frame, which is more than some other cricketer. Kohli was additionally important for group India that won the ICC CWC 2011 and ICC Champions Trophy 2013. He won India's Sir Garfield Sobers Award for ICC Male Cricketer of the Decade
Australian all-rounder, Ellyse Perry was pronounced the Female Cricketer of the Decade to win the Rachael Heyhoe-Flint Award. 
She had scored 4,349 runs with four centuries and took 213 wickets in all worldwide cricket during the decade – which was additionally the most wickets taken by any player.
She likewise proceeded to win the ICC Women's ODI Cricketer of the Decade just as the ICC Women's T20I Cricketer of the Decade.
Kohli was additionally granted the ICC Men's ODI Cricketer of the Decade while Steve Smith stowed the ICC Men's Test Cricketer of the Decade for scoring 7,040 runs in 69 Tests in the period at a normal of 65.79 with 26 centuries. 
Smith – who additionally stayed prohibited from the game for ball-altering during the qualification time frame – beat Pakistan's Yasir Shah, New Zealand's Kane Williamson, England's James Anderson, Sri Lanka's Rangana Herath, England's Joe Root, and India's Kohli.
Read more: Pakistanis respond to Green Shirts' rejection from ICC Teams of the Decade
Afghanistan's Rashid Khan, shockingly, got the ICC Men's T20I Cricketer of the Decade grant, for taking 89 wickets at a normal of simply 12.62 each with an economy pace of 6.14 runs per over in 48 matches during the decade. 
Rashid Khan – who got a large portion of his wickets against minnows and partner groups, vanquished Chris Gayle, Aaron Finch, Virat Kohli, Lasith Malinga, Rohit Sharma and Imran Tahir.
India's MS Dhoni, then, won the ICC Spirit of Cricket Award of the Decade, picked by fans collectively for his offer of getting back to back previous England hitter Ian Bell following a questionable runout at Trent Bridge in 2011. 
Read more: Misbah, Yasir just Pakistanis designated for 'ICC Awards Of The Decade'
Pakistan's Misbah ul Haq was likewise assigned for this class however he didn't get enough help from the fans.