A new overview by Gallup Pakistan has uncovered that 47% Pakistanis are cheerful that 2021 will be a preferred year over 2020.
Of the excess, 30% communicated sensations of dissatisfaction in front of the new year, 13% were of the view there won't be any improvement in the status quo, while 10% decided not to answer the question.
The net score of hopefulness recorded was 17%.
More than 1,000 individuals from everywhere the nation took an interest in the review which was directed between October 9 and November 2, 2020 in relationship with Jang-Geo News Polls.
Pakistanis contrasted with individuals from 46 other countries
Gallup Pakistan likewise contrasted the assessment of Pakistanis and the assessment of individuals in 46 other countries.
Results indicated that 43% of the world's kin are hopeful about the future, 24% are disillusioned, 26% think "in between", while 7% didn't answer this question.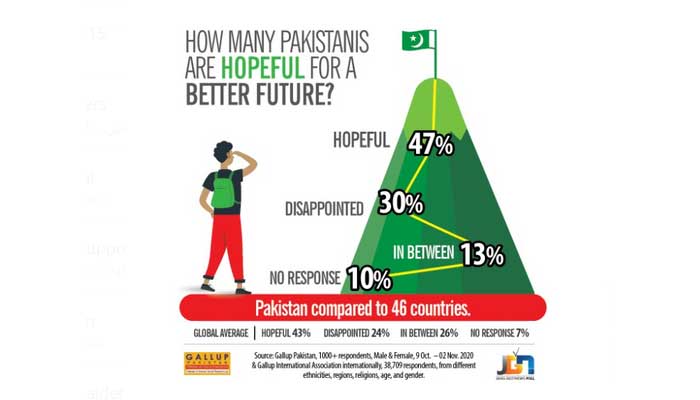 Net score of confidence across different gathering tenures

According to the overview, the net score of good faith among Pakistanis has varied essentially over the most recent 30 years.
When the PPP government came to control in 2008, it was recorded at a 30-year low of – 31%.
In 2013, in the initial a half year of PML-N coming to control, it was recorded at 11% and in 2014 it went up to the most elevated level of 61% before it began declining once more.
After the 2018 decisions, when PTI came into power, the net score of confidence went up to 37%. Be that as it may, in 2019, it boiled down to 14%. In 2020, regardless of the episode of Covid, the net score of positive thinking was recorded at 17%.
Hope in other countries
Looking at different nations in the district, 68% in India anticipate future improvement, contrasted with 31% in Afghanistan.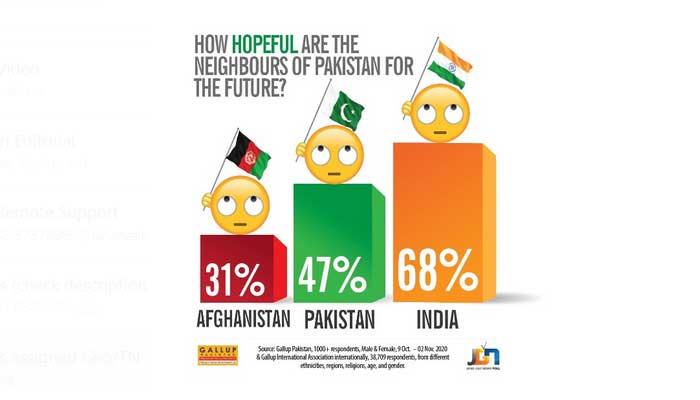 In Gallup's Hope Index, Nigeria beat the rundown of the world's five most confident nations with a net score of 69%. Indonesia came in fifth with 66%, Azerbaijan remained at 65%, Vietnam 59% and Kyrgyzstan 58%.
The most cynicism about the future came from Italy, where the net score was – 43%. Likewise, the rate was – 34% in Hong Kong, – 32% in Poland, – 32% in Bulgaria and – 22% in South Korea.